Plan Your Visit
When you're staying at the University of California, Riverside, begin your tour of Riverside right here on campus, with the Eaton Collection, the world's largest public collection of science fiction. Take a walk to the Botanic Gardens to find a living museum of more than 3,500 plant species from around the world. Hike to the top of Box Spring Reserve to get a mountain view of the surrounding community. Explore the gifts of our campus and city, and our commitment to art, culture and innovation!
Reserve Activity Space
We have the perfect spaces to use when you're filling your group's schedule of activities. Our selection of spaces includes indoor facilities, outdoor facilities, restaurants, computer labs, patios with barbecues, and recreational fields - spaces that are ideal for groups of 10 to 300 people! Reserve a recreational space.
Tour Meeting Rooms With 360° Views
Visualize the possibilities of your event with beautiful 360° views and photographs of our meeting rooms and facilities. Take a 360° tour.
Find Things to Do in Riverside
Explore the campus, tour the city and travel to some of California's best destinations that are located less than an hour away. Use our Things to Do in Riverside attraction guide to find your way!
Use UCR Shuttle Service
A fun and unique way to explore the city is by arranging a UCR trolley for shuttle service. Trolleys can be reserved to take your group from campus to destinations within the city. Ask your event coordinator about booking a trolley.
Need More Information?
Do you have a question about your arrival? Contact us or check our frequently asked questions.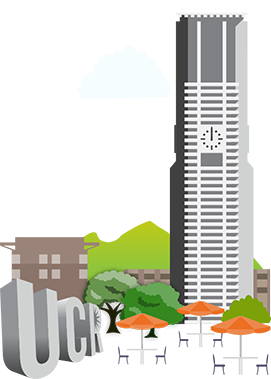 Get UCR Maps & Directions
Navigate your way to and around UCR with directions and maps. 
Dine at UC Riverside
Find delicious, international cuisines at our UCR restaurants. 

Learn About UCR
Get ranks, facts and insightsabout the University of California, Riverside.